You're on a quest to enhance your golf game and the Swing Caddie SC4 Launch Monitor might be your ticket.
It's a golf simulator and portable launch monitor that measures every aspect of your swing.
It's not just for pros; it's for novices too.
In this review, we'll walk you through its key features and performance, helping you determine if it's right for you.
So, get ready to possibly swing your way to a better game!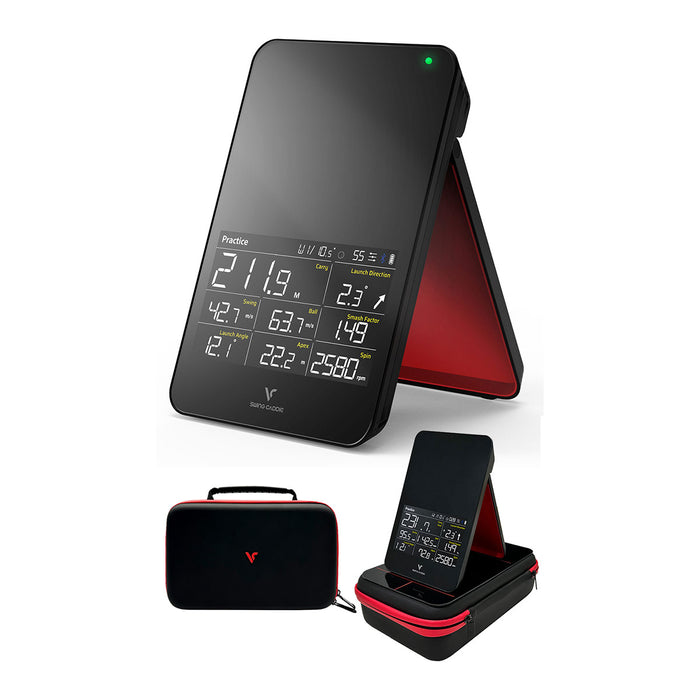 What is the Swing Caddie SC4?
In your quest for better golf performance, you've likely come across the Swing Caddie SC4, the latest and most powerful launch monitor by South Korean company, Voice Caddie. This high-quality device is a game-changer in the ultra-budget category, offering a wealth of features and capabilities that make it a standout choice for golfers at all levels.
The SC4 is described as a 'personalized launch monitor,' able to measure eight club and ball parameters that can help you improve your game. It's built with an onboard display that allows you to use it anywhere, and even doubles as a golf simulator, enabling you to play on world-renowned courses without leaving your home. The SC4's versatility doesn't stop there – it can also be used outdoors, making it a complete solution for both indoor and outdoor golf practice.
The device's companion app, MySwingCaddie, available for both iOS and Android, enables you to organize your data, view shot dispersions, and even record your swing. Through this app, you can access the SC4's simulator functions, compatible with E6 CONNECT and OptiShot Orion software, although a separate subscription is required.
Easy to transport from your home to the driving range, the SC4 comes with a built-in stand and a unique voice output feature that reads your distances out to you. This, coupled with the remote control handset and barometric pressure sensor, makes the SC4 a comprehensive tool for any golfer looking to up their game.
Setting Up The SC4
Setting up your SC4 is a breeze once you know the basics.
Your first steps will involve positioning and aligning the device for optimal performance.
After that, you'll need to set up the accompanying app and connect it to your SC4 to access the full range of features.
Position and align the device
How do you position and align the Swing Caddie SC4 for optimal performance?
The first step is to unfold the SC4's stand and place it five feet behind your hitting zone. Make sure it's level with the tee area for the most accurate readings.
The next step involves adjusting the mounting angle. You'll need to tilt the stand until a 0 appears on the device's display, indicating the correct tilt angle.
The final step is aligning the device properly. There's a red range line on the top of the SC4 – this should line up with your tee and target.
Following these steps ensures that your SC4 is positioned and aligned accurately, which is crucial for obtaining reliable data and improving your golfing performance.
Set up the app and connect it to the SC4.
Once you've positioned and aligned your Swing Caddie SC4 accurately, it's time to set up the app and establish a connection with the device.
First, download and open the MySwingCaddie app on your iOS or Android device.
Place your device near the SC4, then power it on.
Now, you'll connect via Bluetooth.
Navigate to the Bluetooth section in the app and follow the prompts, which will involve selecting the SC4's serial number and entering a 6-digit PIN.
After inputting the PIN displayed on the SC4 into the app, the connection is established.
Remember, the SC4 runs on a rechargeable battery, has an LED indicator, and a convenient magnetic spot for the remote.
For indoor use, ensure enough clearance for a full swing.
Golf Simulation
When it comes to golf simulation, the Swing Caddie SC4 doesn't disappoint. It's compatible with both OptiShot Orion and E6 CONNECT, opening the door to a world-class virtual golfing experience.
You'll get to test your skills on digital renditions of famous courses, right from the comfort of your own home.
OptiShot Orion
Your golfing prowess can significantly benefit from the OptiShot Orion, a dynamic and affordable golf simulation software bundled with the Swing Caddie SC4.
This software offers an immersive golfing experience with over 20 premium real-world courses, customizable settings, and the ability to compete in worldwide tournaments or practice in four distinct ranges.
In Orion's dynamic range, you can even set specific target distances and add hazards, enhancing your strategic skills. The software's integration with the Swing Caddie SC4's Orbit Launch Monitor gives you accurate swing metrics and feedback, helping you improve your technique.
Despite a less-than-stellar user interface, OptiShot Orion's affordability and rich feature set make it a worthy investment for golf enthusiasts aiming for continuous improvement.
E6 CONNECT
Dive into the immersive world of golf simulation with E6 CONNECT, a feature-rich software that pairs seamlessly with your Swing Caddie SC4. This top-tier software encompasses a full driving range, practice area, tournament play, online events, and an array of multiplayer formats. You'll appreciate the flexible gameplay settings, including mulligans, wind, and weather variations.
E6 CONNECT also offers engaging minigames such as Long Drive and Closest To The Pin. With a Basic subscription, you gain access to P2P gameplay and a periodically updated content library. An Expanded Subscription unlocks over 68 additional courses, totaling over 90, and all previously released content.
Despite requiring an annual subscription, its realistic graphics and textures make E6 CONNECT a worthy investment for any golf enthusiast.
Data Parameters & Accuracy
Let's examine the data parameters and accuracy of the Swing Caddie SC4.
You'll find it measures key metrics such as carry/total distance, swing speed, ball speed, and more.
But the question is, just how accurate are these readings?
Data Parameters
When it comes to data parameters, the SC4 offers a comprehensive range of metrics to help you fine-tune your golfing skills. It measures key data points like carry distance, total distance, ball speed, clubhead speed, and smash factor, giving you valuable insight into your performance.
The SC4 also captures more complex metrics such as apex (max height), launch direction, spin rate, and launch angle. This rich dataset allows you to analyze your swings in detail and identify areas for improvement.
The accuracy of the SC4 is consistent, providing reliable data for short clubs. However, while it does provide data for longer clubs, accuracy diminishes, particularly for the driver.
Accuracy
Picking up from where we left off, you'll find that the SC4 manages to deliver highly accurate and detailed data for a wide array of parameters. Particularly impressive is its carry distance accuracy, often matching or coming very close to the readings of higher-end models like the Uneekor EYE MINI.
While it does show some discrepancies in metrics depending on the club used, these don't typically exceed a 10% variance. The SC4's spin readings have also improved significantly with firmware updates, reducing overreported spin rates. However, it's worth noting that the SC4 struggles with handling poor strikes, delivering optimal results with decent ball contact.
Despite minor shortcomings, the SC4's accuracy certainly holds up against comparable launch monitors in its price range.
Features
Now, let's talk about the features that make the Swing Caddie SC4 a stand-out device.
From its impressive display and remote to its integration with the MySwingCaddie App, this launch monitor has a lot to offer.
You'll appreciate how these features combine to create a user-friendly, high-tech golf tool that enhances your game.
Display & Remote
You'll notice two key features of the Swing Caddie SC4 right away: the vivid 4.8′ LCD display and the sleek, handy remote control. The display, placed on the unit's front, presents data in a clear, easy-to-read format, with white text against a dark background, ensuring visibility in various lighting conditions.
Display Features: The SC4's display shows all essential data readings post-shot, providing quick, at-a-glance information.
Remote Control Functionality: The included remote enables you to switch between modes, set target distances, and select clubs with ease.
Customization Options: You can also input the loft of your club and alter the unit of measurement and voice readout language.
These features work together to offer a user-friendly, personalized golfing experience.
MySwingCaddie App
Let's explore the features of the MySwingCaddie app, an integral part of your Swing Caddie SC4 experience.
This app offers you the 'Driving Range' and 'Pro' features, enhancing your training by providing real-time data and detailed analysis.
Additionally, the 'Video' feature allows you to record your swings, further aiding in your technique improvement.
Driving Range
With the MySwingCaddie App, you can access a virtual driving range that offers a top-down perspective of your shot dispersions for any club you choose.
This app generates real-time results as you hit, providing immediate feedback.
All your shot data is displayed in a grid format for easy analysis.
The app's driving range feature is a powerful tool for improving your golfing skills.
Pro
Continuing from the driving range feature, another impressive aspect of the MySwingCaddie App you'll find useful is its 'Pro' feature.
This tool gives a more visual look at your launch and ball data. Through diagrams of the club and ball, along with your shot data, you can analyze your swing more effectively.
The 'Pro' feature enhances your understanding and control of golf metrics, making it a powerful tool for improvement.
Video
You'll find the video feature in the MySwingCaddie App incredibly handy for visual analysis of your golf swings.
This feature allows you to:
Record a video of your shot using your phone's camera
Overlay the video with data measurements for a comprehensive analysis
Review and analyze your recorded swings anytime, anywhere.
This in-depth video analysis aids in refining your technique and improving consistency.
Conclusion
In conclusion, the Swing Caddie SC4 Launch Monitor is an indispensable tool for golfers at any level. Its easy setup, reliable golf simulation, and precision in data accuracy offer invaluable insights into your performance. This monitor is best used outside either on the course or driving range to truly dial in your carry distances.
With a suite of features that track key metrics, it tailors your practice to your unique swing, paving the way for game enhancement.
If you're serious about refining your golf game, the SC4 is the investment you need to make.